| | |
| --- | --- |
| Shape | Thermoplastic Extrusion Ribbon |
| Color | Blue,yellow ect |
| Hydrostatic Head | 10 meters in height |
| Joint Displacement | 10mm in width |
| Density | 1350kg/m3 |
| Hardness | 78IRHD |
| Tensile Strength | 15.7N/mm2 |
| Softness | 52 |
| Elongation at Break | 340% |
| Water Absorption | 0.04%1 |
| Toxicity | Non-toxic2 |
Polyvinyl chloride (PVC) is a advanced polymerization craft, by the high quality of PVC resin, import environmental protection stabilizer and high performance environmental protection plasticizer (DOTP) as the main raw material, through mixing, molding, moulding and water-stop products.PVC waterproof tape has high strength welding property of PVC waterproof material, and it has the advantages of heat resistance, cold resistance, softness and electrical insulation.Compared with other material more shows its good durability, low soap water and tender and soft, waterproof effect is outstanding, ageing resistance performance is outstanding, has now become the world's fastest growing environmental protection waterproof material.It is the use of PVC high elasticity, elastic deformation under various pressure load, thus have strong sealing, can effectively prevent the leakage of building structure, water seepage and shock absorption effect, and has the features of corrosion resistance and good durability.Widely used in the design of many large engineering construction at home and abroad, especially when used for cast-in-situ concrete seam must be equipped with a permanent deformation, such as canals, tunnels, such as exports, retaining dam, water conveyance aqueduct, waterproof and shockproof requirements and existence, so the use and installation of PVC hose is effectively solve various problems encountered in engineering.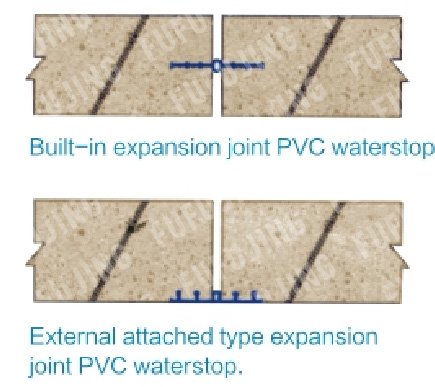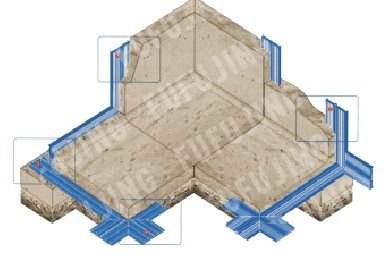 Physical properties of PVC water stop.
| | | | | | |
| --- | --- | --- | --- | --- | --- |
| Performance indicators | Hardness | Density | Tensile strength | Elongation at break | Brittle Temperature |
| salt's A) 1350, | 70-90( shore A) | 1350 kg/m³ | ≥14N/mm2 | ≥300% | -25℃-40℃ |
According to the use case, it can be classified into the middle type expansion joint, the external expansion joint, the middle type building joint and the external building joint.
While pouring concrete,the waterstop strip must fist be fixed in a correct position,Avoid gaps or holes,You must ensure that the concrete have completely and tightly cover the waterstop strip. On a vertical structure,fix the waterstop strip in cured concrete through reserved edge orifices so that the waterstop strip can be prevented from shifting in construction.

The pvc waterstop has a variety of different shapes,For example,its middle-setting or external-setting design,in any ground of underground construction,helps from a permanent and sturdy waterproof network,especially waterstop suitable for structures of water storage and water retaining,like reservoirs,sewage pools,dams.pools,basements,tunnels,retaining walls,ect.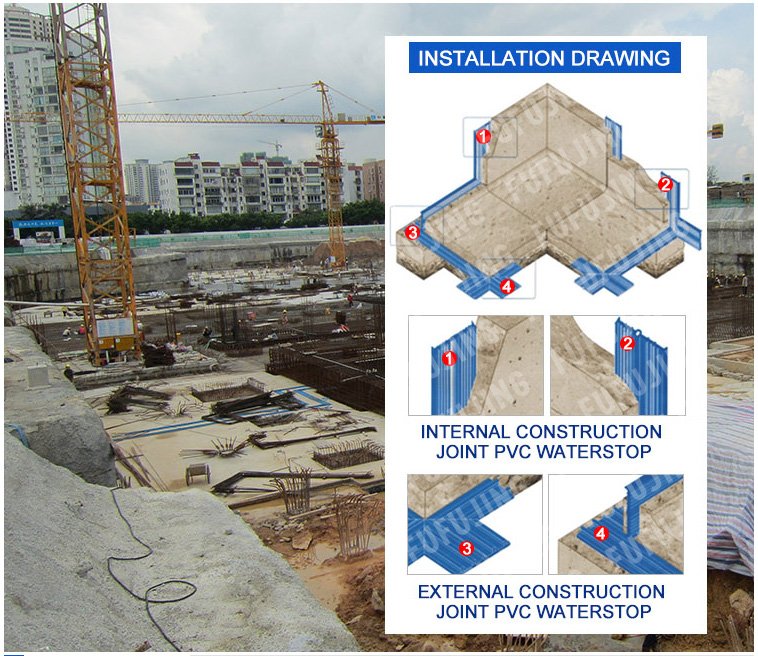 PVC waterstop more than ten years;
We have professional technology in producing;
One of the biggest PVC waterstop manufacturer in China;
PVC waterstop being sold in home and abroad such as Asia,Middle east and Europe.